We have two beautiful Poms from my dear friend, Rachel Latimer of Impressions Pomeranians. Impressions Jack of all Trades is our stunning black and silver male, pictured below:

Impressions Petite Bijou is the newest member of our family. Bijou is the daughter of CH Artic Poms Mirror Image (aka Cupid). She is pictured here at 6 weeks old "holding" one of her daddies ribbons"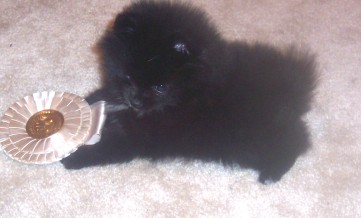 These little dogs are cherished members of our family and we LOVE them both dearly! Jake and Bijou are both headed to the ring (Jake started his career as a puppy, but I wanted to let him mature before going back...trying to take a page from the book of "old school"). Look for both of them in 2005!
We'd love to have puppies to share from these two someday, so check back often for updates on show stats and maybe even a stork report! ;)
Be well!
This page was last updated on 05/28/05.